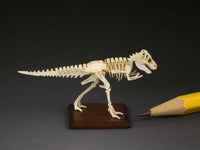 Modern tyrannosaurus rex skeleton model
$64.00
SKU: TREX-MOD-BASE
Tyrannosaurus rex lived from about 68 - 66 million years ago (the late Cretaceous period) in what is now the USA.  It was contemporary with Triceratops.  This model shows T. rex in the more dynamic posture that is now thought to be correct  It is discreetly glued to a wooden base in order to stand firmly.  This miniature model is laser cut in the USA and meticulously assembled by me.  
Please enquire if this shows as sold out as I can make more.
2 inches (5.1 cm) nose to tail, 5/8 inch (1.6 cm) deep with the base and 1 inch (2.5 cm) tall.