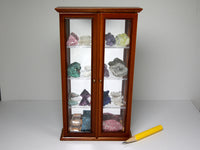 Mineral collection cabinet - crystals, minerals
$225.00
SKU: 8510
A collection of seventeen genuine crystal and mineral specimens in a usefully shallow mirrored 1:12 scale cabinet.  The specimens are all naturally coloured and patterned. They are discreetly glued in place.  The cabinet is a warm walnut colour with good visibility and lighting; the "glass" is actually acrylic.
The identified specimens are as follows: 
Top shelf, left to right: rose muscovite, Harding Mine, New Mexico; apophyllite, Mumbai, India (has a tiny cube crystal separately at the front); serpentine & stichtite, Tasmania, Australia; grape agate, Indonesia; brucite, Pakistan.
Second shelf: malachite, Burra, S. Australia; calcite; amethyst; Keokuk geode, Iowa.
Third shelf: tourmaline; fluorite, Cave-in-Rock, Illinois; fire opal, Mexico; azurite floater, Megrane, Morocco; quartz, Arkansas.
Bottom shelf: Icelandic spar/calcite rhomb, Minas Gerais, Brazil; unknown; thulite, Tanzania.
3 7/16 inches (8.7 cm) wide, 1 inch (2.5 cm) deep and 6 inches (15.2 cm) tall.