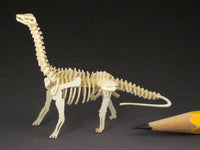 Brontosaurus skeleton model - made to order
$70.00
SKU: BRONT
Brontosaurus is back!  After years of being seen as an outdated genus name more correctly known as Apatosaurus, Brontosaurus is now reinstated as a valid genus, slightly different from Apatosaurus.  This miniature model is laser cut in the USA and meticulously assembled by me.
Please enquire if this shows as sold out as I can make more.
2 inches (5.1 cm) long, 3/8 inch (0.95 cm) wide, 1 9/16 inches (4.0 cm) tall.