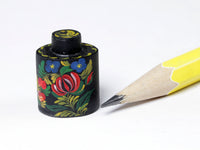 Painted tin cannister, Mary Grady O'Brien, IGMA Fellow, 1977. As is.
$55.00
SKU: MRF7
A colourful folk art painted tin cannister by Mary Grady O'Brien.  The painted floral design is not fully centred - it extends further round to the left than to the right, which is why I am marking this as sold "As is".  I believe that Mary made the cannister herself.  I do not know if it opens - I don't want to risk scratching the paint.  Clearly signed and dated on the bottom.  

Just over 1/2 inch (1.3 cm) wide, just over 3/8 inch (0.95 cm) deep and 13/16 inch (2.0 cm) tall.