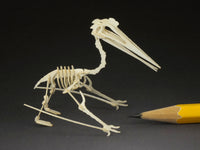 Quetzalcoatlus skeleton model - please order
$60.00
SKU: QUETZ
Quetzalcoatlus was a huge pterosaur, estimated to have been as tall as a giraffe, with a wingspan of around 35', making it the largest flying animal of all time!  It lived in North America from around 72 - 66 million years ago, roughly the same time frame as T. rex.    This miniature model is laser cut in the USA and meticulously assembled by me.  
Please enquire if this shows as sold out as I can make more.
1 11/16 inches (4.3 cm) wing tip to beak, 1 1/4 inches (3.2 cm) deep and 1 7/8 inches (4.8 cm) tall.