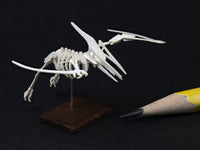 Pterosaur skeleton model - please order
$56.00
SKU: PTER
This pterosaur in flight is mounted on a steel post and wooden base.  Pterosaurs were winged reptiles (not dinosaurs) and many species existed over a time range from 228 - 66 million years ago.  This model is a different species than the larger Quetzalcoatlus also available.  This miniature model is laser cut in the USA and meticulously assembled and mounted by me.  
I can also make them unmounted if you want to suspend one from a ceiling.
1 3/4 inches (4.4 cm), 1 1/2 inches (3.8 cm) deep and about 1 1/4 inches (3.2 cm) tall (height varies a little depending on how I cut the posts).